Mom has gone out shopping, again, so ...
It's just Dad and me. (And he is soooooo easy.)
I'm playing house with our stove.

P.S.

I got in trouble for this. Don't you play with the stove.

Here is another of my room-mates, Albert. E. Gator. But I call him Al.

Really, Al ? The geckos are that big outside?
Time for a nap.

It is a little cool, so I got out my

electric blanket - just my size.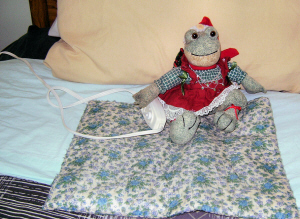 Time to get up from my nap.
Am I adorable, or what !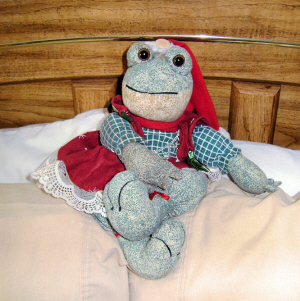 The next morning we went to Clearwater Beach. COOL !
We found this neat draw bridge. I thought I'd go for a ride.
But everyone started yelling, and they would not lower the bridge, again
( click on bridge photo below to see why ! Click a second time to see the reason even bigger.)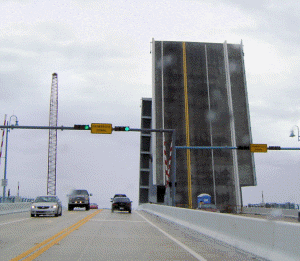 Here is a picture of Little Toot

and

The Calypso Queen

at Clearwater Beach.
Click on the photo to see just who is The Calypso Queen!
I better get some sun before we go back home.
Besides, the Calypso Queen needs a little rest.
Getting a little sun.

I always use sun tan lotion. And this girl's gotta protect them eyes.

Z z z z z z z z z z z z z z .
Is It Time For Lunch, Yet ?!?!
Wait till you see what happened at lunch !
Mom was out, so Dad said I could have whatever I wanted for Lunch.

WOW!

So, I wanted Hamburgers and Hot Dogs

and French Fries, a cherry slushie and ... !
Oops!

I kind of made a mess on my napkin bib with that corndog.

OH BOY !!!

Chili Cheese dog...corn dog...French fries...pickles...cherry slushie....

Yippee!

That was good. And I finished all by myself.

Hmmmmm..... My stomach feels good.
But a little while later
Ohhh!.!.

Dad I don't feel so good.

My tummy hurts.

And our little girl had to go to bed for a while because her tummy was making strange noises.

We put a wet cloth over her eyes/forehead and let her rest.

BUT SOON ... She was up

and around,

meeting more of the gang.

Sweetie Pie and Mickey Macaw sharing a moment.
Hey, Albert, later let's go find a big gecko.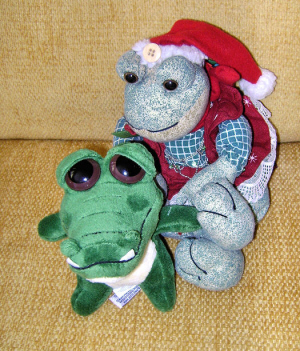 Then Mommy comes home and has a shopping bag.
"HEY, You have something in there for ME!"
"Oh Neat! !
Anything For ME ?!?!?!"
OOPS!

Little Help Here, Please.

Can you help me out of here, Mom?

Mom?...Hey Mom!

"Hmm, is that Bottle Cap candy in here? Mmmm."

"And what is this...? A pack of cards?"
A pack of cards? What do you think Sweetie Pie will do with playing cards?
First thing was to grab her best bud (after Mom and Dad) and play cards.
Here is Sweetie Pie Love and Tommy Turtle.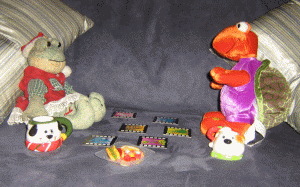 1 Home 2 Games & Coloring 3 Sweetie Pie 4 Cartoon Carnival
And other Sweetie Pie events
5 Sweetie Pie Injury+ 6 Lunch and trip with "dad" 7 The Gang in the car 8 Breakfast -Pineapple Upside Down treat
Thank you for visiting.